About Bose SoundLink Mini
Take music with you wherever you go.

Bose SoundLink speakers are compact, lightweight, and extremely portable. Use at the beach, in the backyard, or on a camping trip, as long as you are less than 30 feet away.

Stay connected.

Take calls by interrupting the music playback with the built-in microphone. You can also access Google Assistant or Siri while your phone is connected.

Dramatically deeper bass.

More bass than you'd expect on a device this small. No need to bring in the big speakers, this is more than enough sound to satisfy.

Music with you all day long.

With up to 10 hours of battery life, you can have a soundtrack running all day. Battery goes from empty to full in just three hours when placed on the charging cradle.
eBay has provided more information about this product above and is not affiliated with or endorsed by Bose.
Price Trends
Bose SoundLink Mini - Price Used
Used Price*
from $78 to $120
*The average sold price is calculated based on "Buy It Now" items sold within the 90 day period described above (excluding shipping and handling). Each interval represents a 15 day period. There is no guarantee that items will always be listed at a price within the provided range.
Compare Similar Models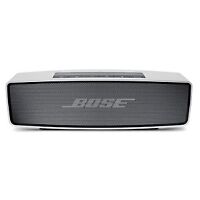 Bose SoundLink Mini Bluetooth speaker
Dimensions
2.0" H x 7.1" W x 2.3" D
Battery Life
Up to 12 hours
Wireless Range
Up to 30 ft (9 m)
Connectivity Interfaces
Bluetooth
Bose SoundLink Mini Bluetooth speaker II

Dimensions

2" H x 7.1" W x 2.3" D

Battery Life

Up to 10 hours

Wireless Range

Up to 30 ft (9 m)

Connectivity Interfaces

Bluetooth

Inputs/Outputs

3.5 mm AUX, Micro-B USB port

Bose SoundLink Revolve Bluetooth speaker

Dimensions

5.97" H x 3.24" W x 3.24" D

Battery Life

Up to 12 hours

Wireless Range

Up to 30 ft (9 m)

Connectivity Interfaces

Bluetooth, NFC

Inputs/Outputs

3.5 mm AUX, Micro-B USB port

Bose SoundLink Color Bluetooth speaker II

Dimensions

5.25" H x 5" W x 2.25" D

Battery Life

Up to 8 hours

Wireless Range

Up to 30 ft (9 m)

Connectivity Interfaces

Bluetooth 4.2, NFC

Inputs/Outputs

3.5 mm AUX, Micro-B USB port
Top 5 High ratings
Top 2 Low ratings
Little bar packs a loud punch

I love this compact amplifier. I use it for my line dance club in conjunction with my iPhone, and it does a great job. It's a little heavier than I might like as I cart a notebook with dance moves plus this unit. But it IS reliable!!, , My only suggestion for improvement is that it's hard to tell when making it louder. It takes a lot of pushes on the "+" button before I can hear any sound at all, and so would love it to have a light that shows my efforts are being rewarded. Just make sure that you test the volume right before using it to make certain that it's where you want it.

Verified purchase: Yes

Awesome Bluetooth speaker

It's more like a small stereo system. I did a ton of research into different speakers - JBL, UE, Bose, etc and Bose was always rated as "best sound quality." It may not be the best for all applications. It's super portable, but probably best as a "home system" rather than the thing you bring to the beach. I love the dock. The sound IS incredible. The bass is unreal -- you truly wonder where it is all coming from. I would not have paid full retail price for this -- not because it's not worth it, but it's not what I had allocated. But man, it sure is worth more than I paid for it!

Verified purchase: Yes

Excellent bass notes at low to normal volumes

it's not Loud (at all really), but does sound quite good with tiny long-throw speakers.., the more air moved the deeper the bass notes, hence long-throw, the amplifier amplifies mid-range as the volume increases past a certain point.., kind of like re-shaping with an EQ on the fly, keeps speakers from popping they say.., i myself use it as ambience music, has a good travel distance of sound in quiet areas.., you'll understand the Maximum volume level to sound quality listening Real Quick with this (too loud Mid-range over powering) i'd buy it again if i had too

Verified purchase: Yes

What can I say, It's Bose?

One more piece from Bose that definitely sounds and works as it was designed. A high quality sound from a small speaker set. Which is nothing more than you would expect from Bose. I have never been disappointed in Bose products, I have, just counting the speakers, 20 different speakers from them. Performance from these systems has always been amazing in their sound quality, they give a onstage type of sound instead of just volume. Loud is not quality music, it's just loud. Reproducing the music as it was intended to sound is what Bose strives to achieve, and I must say that Bose does it extremely well. This SoundLink Mini achieves the quality you come to expect from a small package made by Bose. So if you're looking for a quality music experience in a small portable package this is definitely one to consider. I don't like Bose just because of the name,, it's because they know how to move air to reproduce a musical experience.

Verified purchase: Yes

Best BT speaker on the market

I am an old audiophile from the 80s. The problem with audio quality today is that for one, most people don't know what an audiophile is and two, most people don't know great audio when they hear it. I have purchased about 5 different brands of speakers and without any doubt nobody can touch Bose. JBL gets close but all others I found to just be well marketed poor attempts at sound. You pay the price for Bose but the sound is worth it. When I found the refurbished Bose store instruct gold. Best speakers on the market at competitive prices. Bass is never equaled, mid ranges are clear and undistorted and highs are crisp without piercing your ears. Build quality is fantastic too with the fits and finishes being on Raquel par to the everyone's favorite electronic fruit company. Buy and enjoy.

Verified purchase: Yes