About DJI Inspire 2
Professional image and video quality.

Take advantage of the CineCore 2.1 image processing system to capture videos in 6k, with burst shots and continuous shooting at 20 frames per second available.

Powerful obstacle sensing systems built-in.

Avoid collisions with ease thanks to the forward and downward vision systems which can detect obstacles up to 30 metres ahead at 34 miles per hour.

Never lose sight of your subject.

Capture stunning images using the powerful Spotlight Pro tracking mode that uses algorithms to sharply track subjects during flight.

Get creative with easy-to-use shooting modes.

Simply select the object you want to track in Quick Mode or select a photography subject using the tracking position in Composition Mode.

Intuitive homing system for a safe return.

By capturing a real-time map of its flight route, the drone can find its way home using the Smart Return Home feature, even if the video transmission signal is lost.

Dual batteries for peace of mind.

With a backup battery holding enough power to achieve a safe landing, you can continue to fly even if one battery fails.
eBay has provided more information about this product above and is not affiliated with or endorsed by DJI.
Compare Similar Models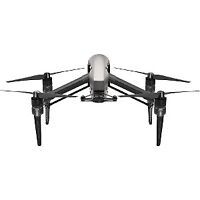 DJI Inspire 2
Camera Type
Interchangeable Camera Drone
Cameras Supported
Zenmuse X5S, X4S, X7
Maximum Takeoff Weight
4250g
Maximum Descent Speed
9m/s
DJI Phantom 1

Camera Type

Interchangeable Camera Drone

Maximum Takeoff Weight

1200g

Maximum Descent Speed

6m/s

DJI Phantom 2

Camera Type

Interchangeable Camera Drone

Maximum Takeoff Weight

1300g

Maximum Descent Speed

2m/s
Top 10 High ratings
Top 1 Low rating
Aerial Art money can buy.

Tremendous quality with fast delivering method from the states. This Inspire 2 is a true professional drone that money can buy for Aerial enthusiast. While smaller drone has became a common ground and taking aerial photography has lose its "wow" factor, this Inspire 2 pairing with x7 is an unprecedented imagery with Super 35 Sensor and 14 stops of Dynamic range. This is however comes at the cost of having to invest a large sum of money when buying accessories for the equipment. Nevertheless when consider the possibility it could deliver with the performance. the Quality of this Chinese manufacturing company is unmatched by others.

Verified purchase: Yes

The DJI X5

I bought this for my Inspire 1, and it is an amazing camera. It also works with my Osmo with an additional adapter. The image quality is great at 16mp and video capabilities of 4k at 30fps. I generally shoot at 4k 24fps or lower, but there are times I need higher frame rates. Although this is discontinued in the US and the X7 is out, I would highly recommend it. Especially if you can pick one up for a fraction of the price of a X7.

Verified purchase: Yes

Upgraded my Inspire I

As I build my photography and drone (sUAS) Company, I upgraded my camera system to this. Due to constant snow and catching the plague, I have only used it like twice at this point. So far, the quality of the raw images are much improved over the stock camera the Inspire I can come with. Additionally, upgrading the system was straight forward, and the aircraft flew practically the same. Still sorting out some of the advance settings, and calibration options but looking forward to using this.

Verified purchase: Yes

Great Fun, great Pics, not so great price.

It flies pretty close to the other DJI products. It is a bit more nerve racking at first due to the money involved. Some great Pics! It also is able to keep up with moving subjects a lot better. Draw backs are, it doesn't have the same flight Macros the Mavic 2 pro has, and to really get the best video results, be prepared to spend several more thousand on camera, X7, lens, SSD stick, SSD reader, computer that can handle editing, and software.

Verified purchase: Yes

Great machine, not so great company.

It has it's share of problems, but is still one of the best quadcopters for cinema work. There's no legitimate reason DJI must have access to your personal information in order to install the apps and fly the drone. I suggest installing apps on a "burner" device and not giving your actual information. Unfortunately, there aren't similar offerings from other companies.

Verified purchase: Yes

Good starter setup

I found this with the purpose of using the DJI X5 on my octacopter. Turns out, I have used almost everything that came with this setup already and it seems to be performing as it should.

Verified purchase: Yes

Very nice on my Inspire1 pro and Osmo

This camera is really nice,shoots great photos and videos. Pro Quality , looks real nice on Osmo and Inspire pro .

Verified purchase: Yes

great dron, can i have one for reviewed

is the beast drone i ever buy.

Verified purchase: Yes

Great drone!

The drone is awesome. Plain and simple.

Verified purchase: Yes

Worth it!

Verified purchase: Yes