About JBL Charge 3
6000mAh power bank.

Built-in rechargeable Li-ion battery supports up to 20 hours of playtime and charges smartphones and tablets via USB.

IPX7 waterproof.

No more worrying about rain or spills; you can even submerge Charge 3 in water.

JBL Connect.

Build your own ecosystem by connecting multiple JBL Connect enabled speakers together to amplify the listening experience.

Lifestyle materials.

The durable fabric material and rugged rubber housing allows your speaker to outlast all of your adventures.
eBay has provided more information about this product above and is not affiliated with or endorsed by JBL.
Price Trends
JBL Charge 3 - Price New and Used
New Price*
from $81 to $94
Used Price*
from $55 to $84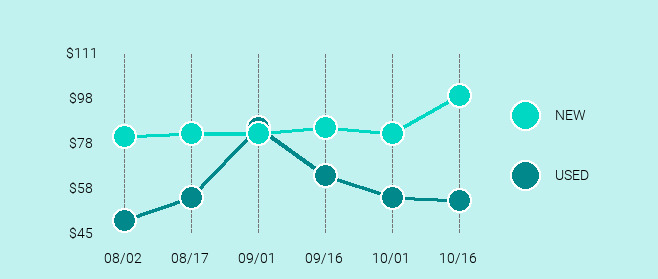 *The average sold price is calculated based on "Buy It Now" items sold within the 90 day period described above (excluding shipping and handling). Each interval represents a 15 day period. There is no guarantee that items will always be listed at a price within the provided range.
Compare Similar Models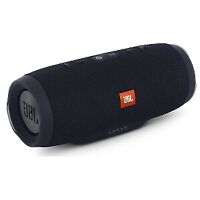 JBL Charge 3
Connectivity
Bluetooth 4.1, 3.5mm Audio Cable
Simultaneous Connections
3
JBL Flip 3

Connectivity

Bluetooth 4.1, 3.5mm Audio Cable

Simultaneous Connections

3

JBL Go 2

Connectivity

Bluetooth 4.1, 3.5mm Audio Cable

Simultaneous Connections

1
Top 5 High ratings
Top 1 Low rating
Perfect for Bass Music

This is probably one of the most underrated bluetooth speakers. Everybody's pointing at Bose's Soundlink Mini, but I compared both of them, and the difference is flagrant., Why the JBL Charge 2+ is better than the Bose SLm or even the UE Boom:, - Louder than both of them, - At maximum volume you don't loose bass, and the sound doesn't become shit, - Incredible bass, especially if you put it in an angle, it creates a subwoofer. UE Boom has NO bass compared to JBL Charge 2+, - Amazing 12 hours battery life, - USB port for charging phones, - Cool design, the passive bass radiators look awesome when blasting bassy music at max volume, , If you're into Electronic music such as House, Electro, Trap (dayum), Hardstyle, Trance, Drum&Bass, and lots of other, don't even hesitate, buy this speaker. I spent a lot of time researching for the best bassy bluetooth speaker, this is the one guys., If you want waterproof, go for the UE Boom, if you want to waste money for the Bose Soundlink Mini, if you wanna be happy, buy the JBL Charge 2+ :D

Verified purchase: Yes

Why JBL will have my business forever.

The sound quality given by JBL speakers of any kind from ear buds to headphones to speakers will always be, in my opinion top of the line. For what you pay you can't find better. You could pay a closer to a thousand for some fancy overpriced postmodern speaker. But JBL delivers class simplicity and performance all in one at a very reasonable price. I had the charge 1. And after leading it to a friend who then broke it. I tried other cheaper speakers. With high durability and water proofing. I have a small non-JBL speaker, one I use for work. It's small unimpressive and performs well. But comes no where close to the JBL products. I finally decided to spend what I should have in the first place and have got the charge 3 and it's slim, Portable, and the interface with the phone or device it's connected to is superb. I have never seen such technological style. The soft vocals coming from the front of the speaker mixed with the pulsing bass from the two side speakers will always be enthralling. The waterproofing has even been improved on. The cover for the ports where you can charge and use USB or an auxiliary cable is now self closing. Loaded with a spring or wire. Fully waterproof up to a meter for 30 minutes. Is very useful for bathrooms kitchens outside tables at parties. The handsfree makes for the best quality phone calls ever. The integrated microphone is superb. The only downside is little to no privacy in public places. However in the comfort of your own home there is no downside. There is in my opinion no flaw with the JBL Charge 3 yet when the 4 hopefully comes out I will be shocked once again to see everything I didn't know Was missing from the charge 3. A solid and recommended purchase for anyone who enjoys portable music or high quality hands free experiences.

Verified purchase: Yes

Very bass heavy. Still a solid speaker

Ok to start the Charge is PRETTY bass heavy. But it's pretty solid sound nonethe less. If you have an equalizer on your music player it's not a issue at all. You can adjust accordingly and have amazing quality., , This speaker can get REALLY loud. Great for a small basic party or outside venue with some friends. I personally use this on my 21ft boat for fishing with friends., , I my self am stuck with an iPhone so I can not adjust my Pandora EQ. That said.... I find that playing at 50% volume seems to be the best balance of bass and vocals to balance the song for quality. The bass is still a little heavy but it's fine for listening. But a music snob would notice., , This is perfect for outdoor listening. It's a little loud and punchy for inside walls and stuff. But if you like to blast indoors this'll do it trust me., , I'd reccomend this, I've used the EU boom series and a few BOSE systems and the charge 3 is a great value especially with it's crazy battery life and the ability to charge a phone or device and still outlast most other systems in this category., , And again since I fish with this the fact it floats and is 100% water proof is amazing value for my use. I wanted the flip 4 but the fact it sinks and is so tiny ruined the use for me. The charge 3 is by far the bast portable system on the market right now for under or around $100., , I'm completly happy with this unit. I would reccomend it

Verified purchase: Yes

Portable Speaker For Work.

I just bought this speaker to replace a job-site radio., Co-workers carry these size speakers to their workstations so I decided to try one., After reading reviews and doing some research, I chose the JBL Charge 3., Some of the factors that weighed in this model's favor were:, , Battery life. The battery charges fairly fast. Seems to take around 2.5 hours to re-charge and the battery lasts quite a while. I have been getting close to 18 hours of battery life. That may vary depending on how high a volume you use., , Durability. The speaker seems durable. I like the water resistance feature. It's a little heavy. It looks like it should be able to withstand an accidental drop. There's no rattling., , Sound Quality. I use this exclusively with an MP3 player. It works well with the direct hookup by cable. I really like the sound quality of the Charge 3. It's loud enough to hear over the machinery. I think it's more suited to my musical tastes which is mostly country and classic rock. It's not bass-heavy and not tinny. I like the balance between the two., , This speaker is simple to use and it's loud enough with very good sound quality. I like it a lot!

Verified purchase: Yes

Medium Speaker, Huge Sound!!!!

This is far the best speaer I have ever owned. JBL got this right. The bass is excellent and youvare able to hear all the highs and lows. The volume is controllable thru your phone or the speaker and it will get better loud. I purchased this speaker for my wife, but I immediately got jealous because of how good it sounded and I had to get my own Charge 3 and I make sure that everyone around me at work hears it. Be careful for knockoffs, they are inferior and look just like the real thing and the sound quality is horrible. I know be cause I bought on for $40; and I mean it look like the real thing. The Charge 3 is a very solid speaker in construction and I believe it's weighted just right, because the speaker does not bounce around the table when I'm jamming at a high volume. I listened to the Charge 3 and compared it to other JBL speakers and other brands, but the Charge 3 was my choice. I have not tested it in the rain or dipped it in water, and I don't believe I will, but you can't go wrong with the JBL Charge 3 in my opinion. I used to be a Disc Jockey and the sound man in a band, and I kind of know about sound quality. The JBL Charge 3 gives you the sound quality you're looking for, it's sturdy and looks good.

Verified purchase: Yes