About Zune 80
Showing slide {CURRENT_SLIDE} of {TOTAL_SLIDES}
80 GB capacity.

Holds up to 20,000 songs, 25,000 pictures, or 250 hours of video.

Beautiful, big screen.

Featuring a 3.2-inch color screen, Zune 80 GB is perfect for portable video viewing.

Touch controls.

Kiss slow scrolling goodbye. The innovative Zune pad makes browsing your device a blast. Fly effortlessly through your music, picture, and video collections.

Wireless Zune-to-Zune sharing.

Share full-length tracks of your favorite songs, albums, playlists, pictures, and even audio podcasts. Listen to the full track of any song you receive up to three times, and even pass songs along songs to other friends nearby.
eBay has provided more information about this product above and is not affiliated with or endorsed by Microsoft.
Compare Similar Models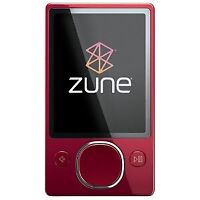 Microsoft Zune 80
Audio Formats
AAC, Audible, MP3, WMA, WMAPro
Video Formats
H.264, MPEG-4, WMV
Screen Resolution
320 x 240
Music Playback Time
Up to 24 hours
Video Playback Time
Up to 4 hours
Showing slide {CURRENT_SLIDE} of {TOTAL_SLIDES}
Microsoft Zune HD

Audio Formats

AAC, MP3, WMA, WMAPro

Video Formats

H.264, MPEG-4, WMV

Screen Resolution

480 x 272

Music Playback Time

Up to 33 hours

Video Playback Time

Up to 8.5 hours

Microsoft Zune 120

Audio Formats

AAC, Audible, MP3, WMA, WMAPro

Video Formats

H.264, MPEG-4, WMV

Screen Resolution

320 x 240

Music Playback Time

Up to 30 hours

Video Playback Time

Up to 4 hours